The perfect white T shirt can be hard to come by. The more basic the item the more the details matter. A white tee should look effortless, but strike the right balance of confidence and style, all while oozing cool girl vibes. Sound like a tall order? Well, I've rounded up some of the white T shirt all stars that deliver on all of the above and more.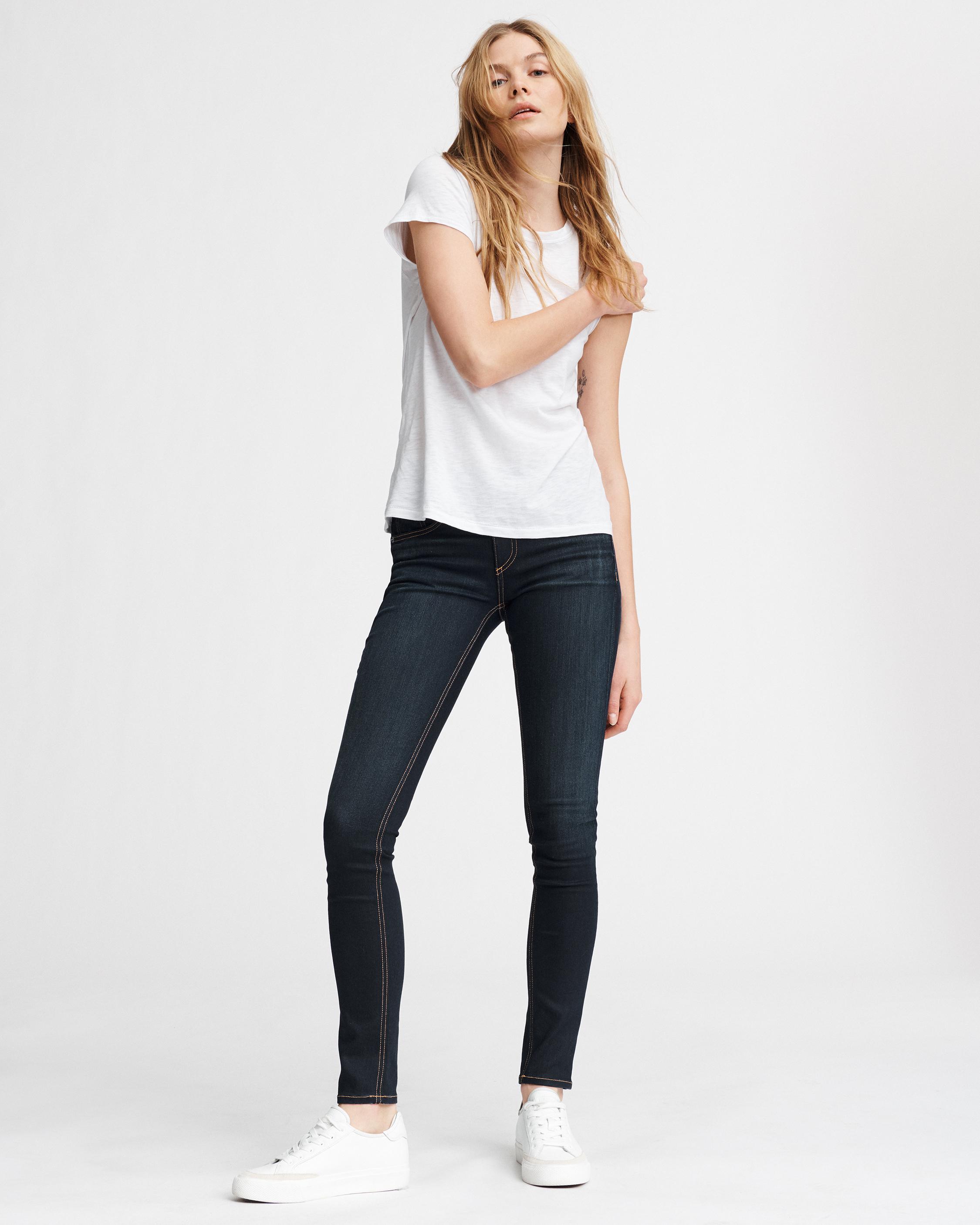 Does the unicorn of white tees exist? I'm not sure but this Rag and Bone tee comes close. The perfect harmony exists between fitted and relaxed and it is long enough to easily tuck. The one detail to pay attention to is the neckline. You want to make sure it sits high on your collarbone and doesn't gape. Your necklaces will easily layer over the high neckline instead of getting lost underneath. Need further convincing? The sleeves on this tee hit at just the right place to flatter your arms. Perfection!
This tee is slightly more fitted than the Rag and Bone and is made from stretch jersey, so it reads more conservative and a little dressier. The banded sleeves keep the whole look streamlined. A great option with a skirt or under a blazer/suit.
Made from micro modal, this fitted tee works well for evening or when you need to look more professional but still want the versatility of a white tee. This tee is super fitted so if you want a little extra room, I would size up.
I love this tee and it has been in heavy rotation this Spring. This cropped version is a great option to wear with high-waisted shorts or skirts this summer and when the weather turns cooler you can pair it with high waisted leather pants like I did above.
The idea for this tee originated with Justin Bieber. Karla Welch is a stylist to Hollywood stars and works with Justin Bieber who wanted a tee that fit his specifications and the Hanes x Karla tee was born. There are now many versions but the original modified for a woman's body is the best.
An all star white tee round up wouldn't be complete without a V neck. This one is deep enough to show off a lacy bralette but not so deep that you feel exposed. The rounded hem and long length provide lots of options for tucking, tying and layering.
I wore these almost every day in college. They are soft right out of the package and only get better with age. The best part? They have a high and tight neck line and the price can't be beat.
This tee is made with nylon, cupro and a little bit of spandex so it's super soft and will keep its shape. The wide ribbing at the neckline and sleeves cut to flatter your arms make this a great tee for the price.
Photos by Megan Weaver